Used Construction Office Trailers For Sale
Buy Pre-Owned Mobile Offices

Used Job Site Trailers

Fast Delivery

Financing Options
Previously Owned Mobile Offices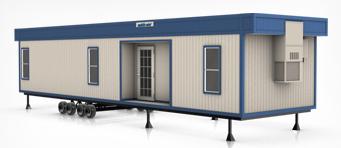 Used Job Site Office Trailers For Sale
When your business needs new office space, whether you need it to be mobile or are looking to cut costs on traditional office space leases or ownership, there's no better option than purchasing a pre-owned office trailer from a US Construction Trailers affiliate. Fully functional used office trailers are put through rigorous inspection and testing, providing only the best mobile office experience to each and every one of our clients.
Whether you plan on taking your office with you from jobsite to jobsite or plunking it down as a semi-permanent home for your business, a dependable pre-owned office trailer will get the job done. You need to focus on your work, not your workspace, so let US Construction Trailers be your office trailer provider. We sweat the small stuff so you don't have to, and you can buy quality used trailers with complete confidence.
Modular building structures have come a long way over the past few years. From the good old days when trailer units used to be converted into construction site offices, the modular structures industry has gradually evolved to become a multi-million dollar business that produces a wide range of modular structures ranging from office trailers, office complexes, portable buildings, construction workspaces, storage containers and even custom buildings that can be used for residential or commercial purposes.
There has been an increase in demand for modular office spaces due to the many startups and mobile companies that exist out there today. Many business enterprises, companies and organizations are now opting to set up their headquarters and branch offices using modular structures such as previously owned office trailers. So why are so many companies and organizations opting to set up their workspaces using used office trailers?
Various Features of Used Office Trailers
Used office trailers are basically normal trailer units that have undergone rigorous re-servicing and customization to transform them into formal and conducive working environments. Skilled and experienced professionals are usually tasked with the work of setting up these special workspaces. These modular buildings are developed to serve the same purpose as normal office buildings would. Everything that you would find in a conventional office space is integrated into the structure of an office trailer.
Trailers come with different features and specifications depending on the owner's needs and requirements. Office trailers for sale can come in single modular units or as combined modular units that form huge office complexes. The combined units are in most cases placed back to back and redesigned to create one huge space that can be used for open office layouts and conference room setups. So this means that it is quite possible to join eight modular offices side by side to create an office complex that is big enough to house an entire company's headquarters.
Industries Where Office Trailers Can Be Used
The diversification of modular structures such as office trailers has resulted in many industries opting for modular housing options over conventional housing alternatives. Many industries today make use of office trailers as a substitute for normal office buildings and spaces. Institutions such as elementary schools, colleges and universities are now opting for mobile office trailers to set up temporary labs and research facilities. Non-governmental organizations that have branches and service delivery points in various parts of the country also make use of office trailers to set up their workspaces.
Commercial establishment and businesses can use office trailers for quite a number of their day to day operations. Opting for used office trailers is more convenient for businesses that relocate every once in awhile. The construction industry has also benefitted from used job site trailers for many years now. Whether it's building, road or other infrastructure construction projects, used office trailers can come in handy due to their portability and flexibility.
Specific Uses For Office Trailers
Due to many ways these buildings can be customized and re-designed, these modular structures can be deployed in a variety of configurations to meet particular needs. Here is a list of specific uses for office trailers:
As alternatives for conventional office spaces and complexes
Construction site offices
Storage and warehousing units
Mobile training facilities and centers
Mobile conference rooms
Benefits of Purchasing Used Office Trailers
There are several benefits that come with purchasing used office trailers as compared to renting or even purchasing new office trailers. Here is a look at some of these benefits:
– Cost
The cost of purchasing used trailers is considerably lower than that of purchasing brand new office trailers. There is, however, no major difference between purchasing new and used office trailers as you get the same quality standards from both types of trailers. You should remember that used trailers are re-serviced and completely redesigned to appear as if they are brand new so you can get a quality product for much less. Renting, on the other hand, can also be quite expensive especially when the trailers are being used for a long duration of time. The charges you pay to rent an office trailer for about six months will definitely be equal to or more than the cost of buying a used office trailer.
– Speed of Construction and Occupancy
Another benefit that comes with opting for used office complexes is the speed of construction and occupancy. Used trailers require a very short duration of time to set up, meaning that you can occupy your new office within a very short duration of time. You do not have to wait for weeks to have your modular offices set up.
– Quality
When you opt for buying a pre-owned office trailer, you can be sure that you are getting a quality product that has undergone rigorous testing and safety checks. Modular offices should be able to serve a company's staff and clients in the same way a conventional office does. Some rental trailers may prove to be of lesser quality and may thereby hinder your company's service delivery. Moreover, low-quality modular offices may also tarnish the image of your organization.
You will also never have to worry about harsh weather conditions affecting your office trailers as they will have undergone strict durability assurance procedures to ensure they stay strong and sturdy for years to come.
– Flexibility
Last but not least, used modular offices can offer your business or company a high level of flexibility. As you may already know, modular office structures can be disassembled and relocated to whichever location you want when the need arises. This means that you will never have to rent new office trailers whenever your business or company needs to relocate to a new city or state.
So whatever office requirements your business or company may have, used office trailers can prove to be the perfect solution that is both convenient and economical. Purchasing used modular offices is a decision that you will not regret.
Quality Office Trailers, Quality Customer Service
"Previously used" doesn't mean "all used up," and at US Construction Trailers our partners ensure that every unit sold still has a long and useful life ahead of it. Our vendors bring us nothing but the best, because they know we won't accept anything less for our customers.
Even so, before listing any used trailer for sale it generally goes through an extensive quality check process. This ensures that every aspect of your used office trailer works flawlessly every time. From wiring to insulation, windows to interior finishing, your previously owned office trailer will have all the amenities and functionality of a brand new office unit at a fraction of the cost.
The perks of purchasing a used office trailer via US Construction Trailers don't end with saving money. In addition to the price, highest quality and most affordable pre-owned office trailers around, US Construction Trailers suppliers offer industry leading customer service along with every inquiry and purchase. From first quote to delivery and beyond, we make sure your office trailer is an asset to your business, not an annoyance on your jobsite.
Size, Selection, and Finding the Right Office Trailer
When you purchase any equipment for your business, you want to make sure it suits your needs and fits the space you have available. When you purchase a portable office to run your business from, these considerations are all the more important.
US Construction Trailers helps you to be able to select through one of the widest selections of used office trailers. From the compact and conservative to the large and in charge, you'll find the right office trailer for every project. And with the same delivery service and quality customer care provided with each and every office trailer sold, you can be set up and running in no time.
Looking for a Used Office Trailer with a Bathroom?
We've got you covered!
Whether you call it a washroom, toilet, ladies'/men's room, restroom, lavatory, powder room, comfort station; urinal; facilities; little girls'/boys' room, can, john; water closet; WC, loo, ladies'/gents'; latrine; head; commode, or privy we can get you a trailer with one.
Get Quotes on Used Office Trailers with Restrooms Now
Our representatives are ready to give you a free quote anytime. You are also welcome to contact us to discuss your office trailer needs—we can help you find the trailer that works best for your business and your budget. Contact US Construction Trailers today and get ready to enjoy your new office!
Training & Conference Areas
Office Furniture & Partition Walls
Restrooms & Showers
Steps and Ramps
Generators
A/C & Heat
Phone, Internet, and Fax
Used Construction Office Purchase Options
How much space do you require for your project? The below chart is a good estimate based on the number of occupants it will house.
| | | |
| --- | --- | --- |
| Occupants | Sq. Ft. Needed | Trailer Size |
| 1-2 | 200 Square Feet | 8′ x 20′ |
| 2-3 | 300 Square Feet | 8′ x 28′ |
| 3-4 | 400 Square Feet | 10′ x 44′ |
| 4-6 | 550 Square Feet | 10′ x 44′ |
| 5-6 | 675 Square Feet | 12′ x 56′ |
| 7-10 | 900 – 1,300 Sq. Ft | 24′ x 56′ |
| 11 + | 1,500 Sq. Ft. + | Request Quote |
| | | |
| --- | --- | --- |
| 8′ Wide Office Trailers: | 10′ Foot | 12′ Foot |
| 8′ x 16′ | 10′ x 36′ | 12′ x 44′ |
| 8′ x 20′ | 10′ x 44′ | 12′ x 50′ |
| 8′ x 24′ | 10′ x 50′ | 12′ x 60′ |
| 8′ x 32′ | 10′ x 60′ | 12′ x 64′ |
Used Office Trailers For Sale
April 21, 2014