Construction Trailers For Sale
New and Used Jobsite Trailers

Pre-Owned But Like New

Fast Delivery to Any Site

Quotes in About 1-Hour

Purchase New or Used Construction Office Trailers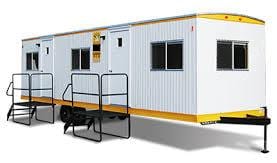 Portable Office Trailers in All Sizes for All Industries
US Construction Trailers provide innovative and economical mobile solutions for portable office space for every type of client, from small startups to large corporations. If you are looking to buy a new office trailer or a used construction office we here to help.
As a leader in mobile office strategies for the construction business, we understand your need to do business with a reputable company that offers reliable construction solutions. Construction trailers are a vital part of your growing business or individual project—whether you're a business owner, contractor, or sub-contractor. Having readily available office space makes a huge difference in how smooth operations run. And whether you realize it or not, it serves as the focal point of daily operations within any given project.
Quality mobile office buildings are commonly used for contractors and sub-contractors, but there are various reasons why you would purchase a construction office trailer. Whether it's for short term, long term, or permanent use, or a single unit or multi-unit complex, there's something for everyone. We'll find a suitable match for your product and budget.
Get a Competitive Quote on Office Trailers Now
If you own or run a construction company and have had difficulty getting started, a proper construction trailer can make all the difference. Without a construction trailer, setting up your job can be a tedious effort. Each site has a different set of requirements and needs, and a portable construction trailer alleviates the added pressure of setting up your work area. Each unit can be customized to meet your specific needs, and we work with you to make sure you have the most functional interior layout to suit your project. There are many areas of construction office trailer that you may consider important, including features suce as:
Coffee & Conference Areas
Partition walls
Restrooms & Showers
Restrooms
Ramp and Decks
A/C & Heat
Phone, Internet, and Fax
US Construction Trailers will help you buy construction office trailers at competitive prices, with the reliable service to match. Our new and used construction trailers follow a strict set of requirements that ensure you only get the highest quality trailers. Each mobile office unit is designed for immediate use and adheres to national and state mechanical, plumbing, and electrical codes.