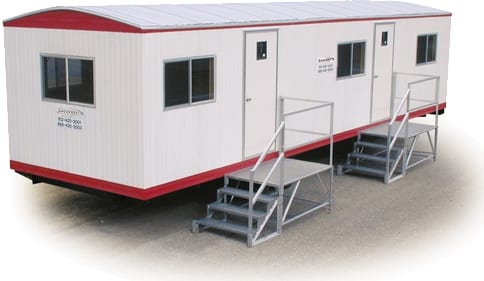 Jacksonville, FL Used Construction Office Trailers
-Construction Office Trailer Rentals
-Used Job Site Trailers
-Used Construction Office Trailers
-Finance Options

Construction Trailers in Jacksonville, FL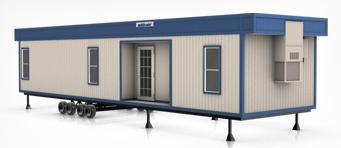 Buy or Rent Preowned Portable Construction Offices and Job Site Trailers
US Construction Trailers is proud to offer cost-effective and affordable solutions on quality job site construction office trailers in Jacksonville. Used, rental, or purchases, we can help! Full line of solutions for field offices, conference rooms, and other temporary office space needs.
USCT will help you find the right office trailer for your project and help you save as much as 30% with less time and effort. Our partners and affiliates can assist with lease and finance options on any size portable office solution. Mobile office are available with HVAC connections, phone-fax-internet, carpet, ramps and much more.

Construction Offices in Jacksonville – Buy or Rent
How much space do you require for your project? The below chart is a good estimate based on the number of occupants it will house.
| | | |
| --- | --- | --- |
| Occupants | Sq. Ft. Needed | Trailer Size |
| 1-2 | 200 Square Feet | 8′ x 20′ |
| 2-3 | 300 Square Feet | 8′ x 28′ |
| 3-4 | 400 Square Feet | 10′ x 44′ |
| 4-6 | 550 Square Feet | 10′ x 44′ |
| 5-6 | 675 Square Feet | 12′ x 56′ |
| 7-10 | 900 – 1,300 Sq. Ft | 24′ x 56′ |
| 11 + | 1,500 Sq. Ft. + | Request Quote |
Construction Trailer Buying Advice
The economy is booming in Jacksonville. In fact, the Governor of Florida recently announced that the area added 10,000 new private-sector jobs this year. Building spending is expected to reach $4.8 billion by the end of the year, with another $3.6 billion in proposed projects.
Such strong economic news is great for the construction industry, with crews needed to build new office complexes or renovate older buildings. If your company is seeing an influx of projects, you might be in need of new or used construction trailers.
Here are some tips to keep in mind when you're shopping for a construction office trailer in Jacksonville, FL.
Benefits of Used Construction Trailers
Used mobile offices offer an affordable and convenient solution when you're working on construction jobs. Trailers are pre-manufactured, portable, and built to your specifications. They can even be delivered directly to job sites.
There are several advantages of buying a used trailer over renting a temporary office.
Fast, easy and temporary solution
Portability
Customizable exterior and interior
Affordable
Ensures a professional space to conduct business
Flexible and multifunctional
Ensures you are accessible to your workers
You can look for new job-site trailers for sale on our site. Or if you're looking for a more temporary solution, you might think about renting a construction trailer.
Size Options for Trailers
You can find a variety of sizes and configurations when it comes to used office trailers for sale.
Here are some suggested sizes based on a variety of needs:
1-2 occupants (200-sq.ft.)
Suggested Size = 8' x 20'
2-4 occupants (350-sq.ft.)
Suggested size = 8' x 28'
3-6 occupants (425-sq.ft. – 550-sq.ft.)
Suggested size = 10′ x 44′
5-7 occupants (700-sq.ft.)
Suggested size = 12′ x 56′
6-9 occupants (900-sq.ft. – 1,300-sq.ft.)
Suggested size = 24′ x 56′
Features of a Used Construction Trailer
Construction trailers can be customized, inside and out. Interiors can be outfitted with furniture, cabinets, and desks to create workstations. Or you can leave an open space for a large table to hold blueprints or designs.
Larger trailers can come equipped with a kitchenette and bathrooms if you have access to water and sewer lines. Don't worry about enduring brutal Jacksonville summers, either, because trailers can be equipped with AC. Modern trailers even have complete HVAC systems to provide heat as well.
Other available features:
Internet connection
Phone/fax lines
Carpet or vinyl flooring
Exterior steps and ramps (to meet ADA requirements for public access)
If you want the trailer to serve as a mobile sales center, you can upgrade the exterior with vinyl siding, louvered windows, and even roof shingles.
How Much Does A Trailer Cost in Jacksonville?
If you're looking to find a temporary solution for your Jacksonville business, you can rent a construction office trailer, starting at around $130 a month. Buying a trailer can cost anywhere from $15,000 to $40,000 depending on the size, square footage, and features.
Get a Quote On a Used Construction Trailer Today
Used construction trailers offer many options for builders in Jacksonville, FL. They offer flexibility, portability, and greater efficiency since you can always be onsite to handle problems.
If you're in the market for new or used mobile offices, check out our inventory. For specific size suggestions and pricing, request a quote today.