Mobile Office Buildings For Sale
New and Used Portable Office Buildings

Finance Options

Fast Delivery to Any Site

Quotes in About 1-Hour

Purchase Mobile Construction Office Buildings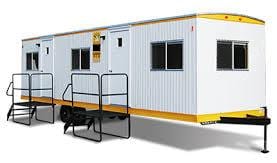 Portable Office Building – All Sizes
Office space doesn't come cheap and is often inconvenient. And if you ever need to change the location of your office, the time and money a move can cost your business is considerable. If only there was a way for you to create a permanent-yet-mobile office, combining easy accessibility with complete flexibility, and all at a price far lower than purchasing or leasing traditional office space….
US Construction Trailers has just what you're looking for. Whether you want to plunk down a small single-room office in your backyard or are in the market for multiple fully-equipped structures to deploy to different job sites, US Construction Trailers helps you find the right mobile office buildings for sale and ready to go.
Standard and Custom Designs to Meet Every Mobile Office Need
You know exactly what you need for your business. We know how to design and build mobile offices to suit any and every business demand. If one of the many standard sizes and models isn't quite what you had in mind, the companies we work with are  happy to build a custom mobile office to your precise specifications. US Construction Trailers knows that every company and every job is unique, and mobile offices aren't just flexible when it comes to location—they're flexible in design, too.
Of course, many businesses have found the standard sizes and models available from local suppliers are more than adequate for their purposes. Though the custom-building process from the suppliers we work with are one of the fastest around, most of them can get an off-the-rack mobile office on the road even faster. When tight deadlines and tight budgets are top priorities for your business, contact the US Construction Trailers sales department for multiple quotes from local companies offering standard mobile office buildings that will fit the bill.
Modular, Scalable, and Secure
A mobile office building doesn't just give your business greater flexibility and control now. It also gives your business freedom to grow and change with the times. We make it easy to purchase additional mobile office units as needed, and we can help you find many modular designs that can grow right along with you. Need a little extra space without starting from square one? Want to reconfigure your office to make room for the changing footprint of a construction project? With the modular and easily-scalable mobile office buildings from local dealers you can consider it done.
And with these mobile offices, flexibility doesn't mean flimsy. Every mobile office building is solidly constructed and as secure as a traditional office building—often more so, as you have complete control over who has access to the building.
If you're searching for a solution to your office space problem, consider going mobile with  quotes from suppliers connected to US Construction Trailers. When you can buy the affordability, flexibility, and scalability of a mobile office building, why would you choose anything else? Contact US Construction Trailers today and we'll tell you how we can help.
Additional Mobile Office Solutions:
Coffee & Conference Areas
Partition walls
Restrooms & Showers
Restrooms
Ramp and Decks
A/C & Heat
Phone, Internet, and Fax
US Construction Trailers will help you buy construction office trailers at competitive prices, with the reliable service to match. Our new and used construction trailers follow a strict set of requirements that ensure you only get the highest quality trailers. Each mobile office unit is designed for immediate use and adheres to national and state mechanical, plumbing, and electrical codes.

Mobile Office Buildings For Sale