Affordable Jobsite Trailers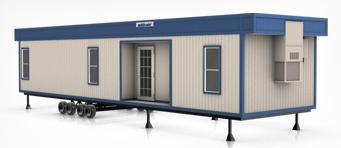 New Job Site Construction Trailer Solutions
US Construction Trailers helps you find new jobsite trailers in a wide array of sizes and styles. Whether you need enough room to manage construction on the Taj Mahal, or just need a simple office you can take from project to project with ease, we can assist with finding the right jobsite trailer for you. Brand new and built to last, your jobsite office and/or storage needs will be taken care of for decades when we drop your new trailer off.
Customer Service Doesn't End With Trailer Sales
If you think all new jobsite trailer companies are pretty much the same, you haven't heard about some of the industry leading customer service suppliers. Not only do we help make sure you find the right company to pick out the new trailer that matches your needs, your budget, and your typical job site, but we keep in touch to make sure the work and the trailer are rolling smoothly. The companies with team up with stand by every trailer delivered, and make sure each one is an asset at every jobsite.
From the first time you call through the life of your new jobsite trailer, you'll see that US Construction Trailers provides personal service like no one else in the business. Our total goal is to help you get the prices from top suppliers and if your new trailer isn't absolutely perfect when when delivery driver brings it to your jobsite, we want to hear about it because we care.
The Right Size For The Jobsite
One size definitely doesn't fit all when it comes to finding a trailer for your jobsite. New jobsite trailers range in size from 8' x 20' to 12' x 64', with a wide range in between. And suppliers offer delivery to your jobsite for each and every one. All you have to do is let us know what you want, and then it can be delivered—no jobsite, and no trailer, is too big or too small to handle.
Finding the right size trailer can be difficult if you're new to the game. Fortunately, we have the experience to help you find a new jobsite trailer that matches your jobsite and your budget. You can contact us any time to discuss your business's needs and get  free quotes on the perfect jobsite trailer.
From office space to storage space, a place to take breaks and a place to make the big decisions, your jobsite trailer is often the center of your project. You want a unit you can use with confidence for years to come, and the customer service from your trailer provider to ensure that at least one thing on the job will take care of itself. When you buy a new job site trailer through a quote US Construction Trailers, that's exactly what you'll get.
Construction Office Sizes Available For Job sites
And for larger projects we can also assist with models as large as 24′ x 64′. Each year we proudly support thousands of businesses with trailers to suit project management needs, swing space, industrial shut downs, and more. Take about 30 seconds to tell us your personal needs and we'll provide you with up to 5 free quotes from companies that can get you the perfect brand new mobile office trailer at the most competitive price.
New Jobsite Office Trailer