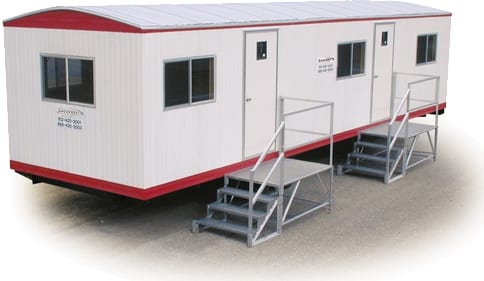 New Portable Office Trailers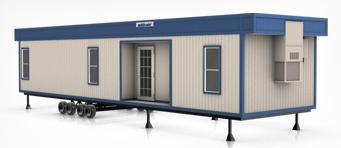 New Construction Office Trailers – Buy, Rent or Lease
At US Construction Trailers, we provide clients with the highest-quality new construction trailers on the market. With years of experience in the field, our team can get you exactly what you're looking for. We pride ourselves in being able to provide a variety of different construction trailers to suit many different needs and types of projects. No matter what you chose, on-time delivery is guaranteed.
There are many different construction projects that would require the use of a construction trailer. Whether they'll be used primarily as a meeting facility, temporary offices or as storage for material, they have a crucial impact of the effectiveness of a construction project.
We understand the importance construction trailers have on the job. They serve as a base for the task at hand, providing workers with a central hub for organization and communication. Aside from the mobility benefit of each unit, our trailers come properly equipped with electrical outlines, telephones lines, and adhere to state rules.
We meet the Office Trailer needs of various types of needs and business, such as:
General Contractors
Construction Jobsite Field Office
Electrical Contractors
Administrative and Sales Offices
Design Firms
Landscaping Companies
And much more!
So whether your in real estate development, healthcare or any other industry there's no project too big or small. If you are looking for the best job site trailers for sale the we have solutions with a variety of different office trailer sizes available, ranging from open plan trailers to those with multiple offices and restrooms. Need features or accessories like electric and water hook-ups? You'll be able to choose from a huge inventory with ramps, internet & fax hook ups, and so much more. Get a Quote on Office Trailers Now
Some of the best new office trailers are built by top companies like ModSapce, Williams Scotsman, and Satellite and our goal is help you get the product for job site at the right price.

Construction Office Sizes Available
8 Foot Wide Office Trailers:
8′ x 20′
8′ x 24′
8′ x 32′
10 Foot Wide Office Trailers:
10′ x 36′
10′ x 44′
10′ x 50′
12″ Foot Wide Office Trailer:
12′ x 44′
12′ x 50′
12′ x 60′
12′ x 64′
And for larger projects we can also assist with models as large as 24′ x 64′. Each year we proudly support thousands of businesses with trailers to suit project management needs, swing space, industrial shut downs, and more. Take about 30 seconds to tell us your personal needs and we'll provide you with up to 5 free quotes from companies that can get you the perfect brand new mobile office trailer at the most competitive price.